Story Telling with National Storyteller Andy Offutt Irwin​​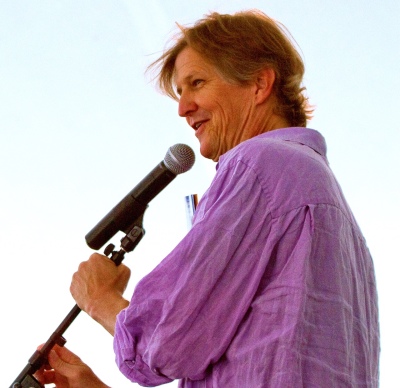 Andy Ouffutt Irwin in Action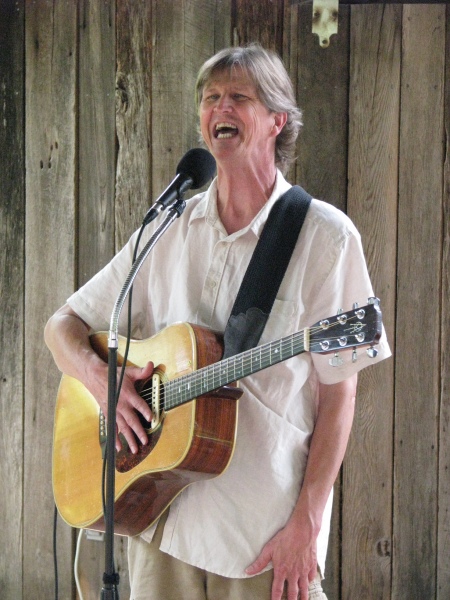 Photo credit: Andy Ouffutt Irwin
Andy Offutt Irwin
The nationally acclaimed storyteller and world's best whistler will be BACK in Woodbine, Georgia for Jazz 'n Art, I'm Telling! on March 18 -19, 2017. After a resoundingly successful dinner performance in October 2016, ANDY will once again grace us with stories to make us laugh, cry, cheer, and help us raise funds for the Woodbine Public Library.

Andy Offutt Irwin, born and raised in Covington, Georgia was encouraged by his band director to "keep working on the intonation" with his whistling.  Well, he evidently took the message to heart – and Andy has a giant, giant heart – agreeing to come to Woodbine, Georgia when he could be anywhere, playing to sell-out crowds as one of the most sought after performing storytellers in the United States.

From 1991 until 2007 Andy served as Artist in Residence at Emory University Oxford College. Going to Jonesborough, Tennessee in 2005 for his first appearance at the National Storytelling Festival, lead to his receiving the Oracle 2013 Circle of Excellence Award from the National Storytelling Network. Andy has appeared 10 times as Teller in Residence at the International Storytelling Center and as Featured Teller for 6 years at this National Storytelling Festival. In between, he tours the United States from coast to coast – and sometimes will graciously agree to appear in a small town trying. Be prepared for your face to hurt!
Andy will be in the big tent at Jazz 'n Art, I'm Telling! on Saturday March 18 beginning at 9:30 am followed by performances at 10: 45 and again at 3:00 pm and on Sunday morning.

ANDY OFFUTT IRWIN recordings:
Andy's Wild Amphibian Show
Squeeky on the Roof
Lip Service
Sister True
Andy Offutt Irwin – Risk Assessment
Andy Offutt Irwin – Banana Seat
Christmas at Southern White Old Lady Hospital
Andy Offutt Irwin – Who is Marguerite?
Andy Offutt Irwin – Bootsie in Season
Andy Offutt Irwin – Crowd Control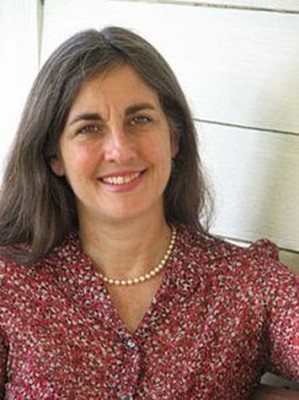 Janisse Ray
J

anisse Ray will read from her book Ecology of a Cracker Childhood at 1 pm on Saturday March 18, 2017 during Jazz 'n Art, I'm Telling!  
Writer, naturalist and activist Janisse Ray is author of six books. She holds an MFA from the University of Montana, and has been awarded two honorary doctorates, one from Unity College in Maine and the other from LaGrange College in Georgia. In 2015 she was inducted into the Georgia Writers Hall of Fame. Winner of many awards, her work has been translated and published in France and Turkey.  
Janisse attempts to live a simple, sustainable life on a farm in southern Georgia, where she is an organic gardener, seed saver, tender of farm animals, and slow-food cook. She lectures widely on nature, community, agriculture, wildness, sustainability and the politics of wholeness. 
 Janisse's first book, Ecology of a Cracker Childhood, published in 1999 by Milkweed Editions, is a memoir about growing up on a junkyard near Baxley, Georgia.  While a reflection of family, mental illness, poverty, and fundamentalist religion, the book clearly sets the tone for her continuing literary non-fiction writings and community activism involving her intense love of place and the great need for awareness and preservation of our natural world.    
A most appreciative Thank You is extended to Janisse Ray for coming to Woodbine in support of our community's efforts to establish a public lending library in our Camden County seat town.  Do look for these other titles by Janisse Ray and husband Raven Waters.
Wild Card Quilt: Taking a Chance on Home     2003
Pinhook: Finding Wholeness in A Fragmented Land        2005
A House of Branches: Poems    2010
Drifting into Darien: A Personal and Natural History of the Altamaha River           2011
The Seed Underground: A Growing Revolution to Save Food  2012
Moody Forest: An Anthology with photos by Raven Waters     2007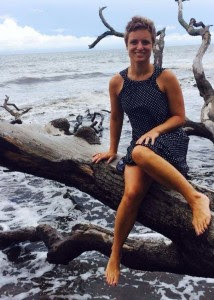 Megan is Co-Founder of One Hundred Miles. In an effort to elevate the Georgia coast as a recognized place of historical, cultural, and biological significance, Megan spends her time working in local  [Megan Desrosiers] communities and on regional collaboration projects. She serves on the leadership team of the Georgia Water Coalition. She is currently the chair of the Savannah River Clean Water Fund Advisory Board, and she serves on the Steering Committee for the Dogwood Alliance's Wetland Forests initiative.
Megan spent 10 years at the Coastal Conservation League (CCL) in South Carolina. She was instrumental in efforts to conserve land in the Ashley River Historic Corridor and on Johns Island. She also worked to establish the organization's first climate and energy and agriculture program agendas.
Megan has worked through the years to help start up organizations form and become sustainable coastal advocacy partners in Georgia and South Carolina. In addition to forming One Hundred Miles, she worked with a team to start South Carolina's first local food hub and collaborated with a group of diverse leaders to initiate Charleston County's Greenbelt Program. Megan has also served on the founding boards of the South Carolina Outdoor Education Program (SCOEP) and Charleston Moves, a bicycle/pedestrian advocacy organization.
Megan is a graduate of Allegheny College in Meadville, Pennsylvania and Brown University in Providence, Rhode Island. Since finishing her degrees, Megan has attended multiple training programs in business development, non-profit leadership, and public speaking. Specifically, she has completed professional development programs at the Harvard Business School, Institute for Conservation Leadership, and the Buckley School for Public Speaking, as well as many other esteemed programs. Megan lives in Old Town Brunswick with her husband, Michael, and two sons, Luca and Kellen.
"We're Gonna Tell you a Story" - cast

Vernal Morrison - Miss "V" ("Kingsley")
Vernal Morrison - Miss "V" (Kingsley) - Developed a lifteime love for theater and storytelling from her mother.  Original cast member of Crooked River Cultural Heritage Production.  She has participated in productions by the Camden Area Players, Camden Theater Group and Theater by the Tracks, where she wrote and acted in the original production of "I Shall Not Be Moved." She is an Air Force Veteran.
Jackie Wade ("Woodenia")
Jackie Wade - ("Woodenia") - Senior Volunteer Services Specialist with the American Red Cross.  Original cast member of Crooked River Cultural Heritage Productions as well as it's former president.  She most recently acted in the St. Marys Little Theater production of "I Shall Not Be Moved." She currently performs with the local group, The Heirs and is director of a community choir in Jacksonville, FL. She is an Air Force Veteran.
​Susan Howard ("Mary")

Susan Howard - (Mary) - Retired teacher of Language Arts and Theater with the Kansas City Mo. school system.  She moved to St. Marys to support her husband's love of golf.  They thought it was a wonderful place to raise their granddaughter. Susan is an original cast member of the Crooked River Cultural Heritage Productions and ated in the production of "I Shall Not Be Moved" at the Theater by the Tracks.  She most recently acted in the Camden Theater Group production of "Bingo Spells Murder."
Steve Parrott ("Mr. Camden")
Steve Parrott ("Mr. Camden") - Mayor of Woodbine, GA. In addition to his mayoral duties, he works in the Customs and Border Patrol Protection.  Original cast member of Crooked River Cultural Heritage Productions.  "Telling history through stories is a good way to stay well-rounded and provides the opportunity for folks to keep growing and living together.bb
Evy Wright  (Curious Moon Puppets)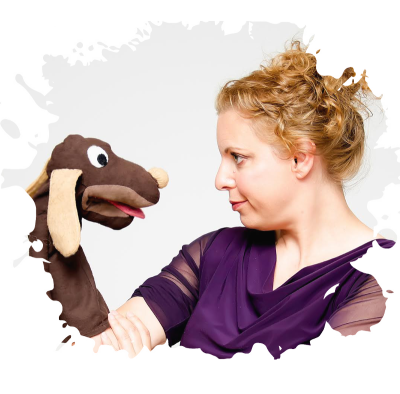 Evy Wright - founding partner, puppeteer, and the director of Curious Moon Puppets entertains and educates. 
Promoting literacy through the art of puppetry, Evy and her puppets enthusiastically encourage a love and appreciation for its cultural value. 
See Curious Moon on the Woodbine Riverwalk, Gazebo Saturday at 1pm and Sunday starting at 11:30.

* This program is hoted by the Woodbine Woman's Club and is supported in part by the Georgia Council for the Arts through the appropriations of the Georgia General Assembly.         GCA also receives support from its partner agency - The National Endowment for the Arts.